Minden during the Weser Renaissance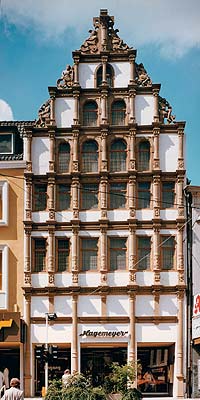 Although the structures are much older, the term Weser Renaissance was first coined in the 20th century. The style of building is characterized by decorated timbered houses and embellished sandstone facades on both citizen and noble residences. This style of building reflects Minden's economic prosperity in the 16th century and examples can be found throughout the city.

Together buildings like these create the perfect backdrop for the Minden Museum (Ritterstraße 23–33) which looks very much like a 17th century lane. Inside the museum you can find versatile exhibits about Minden's civic and cultural histories and numerous remnants from middle-class dwellings done in the Weser Renaissance style.

Interested in the Weser Renaissance? We recommend an informative sightseeing tour for anyone who would like to learn more!