Waterway Crossing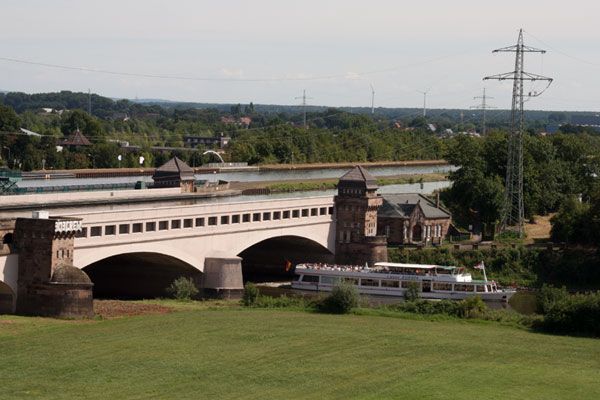 In 1906, construction finally began on one of the region's largest water projects: The Rhine-Weser canal. In 1914 the construction was completed on a massive aqueduct in Minden. Here Two parallel water bridges allow the "Midland Canal" (Mittellandkanal) to flow over the Weser River. At 371 meters, this structure is one of the largest waterway crossings in the world. Minden's passenger navigation service offers informational cruises where visitors can learn about the central lock, pumping station, canal bridge and the southern route.

Don't miss the turning (filling or emptying) of the central lock! The visitor center at the central lock offers all sorts of information, exhibits, models, and films detailing inland water navigation.
New construction of the lock
The lock which was build in 1914 with a length of 85 meters and a width of 10 meters is no longer conform with today's requirements and the dimensions of the ships. That is why they are currently building a new lock paralell to the old one. The contruction work began in spring 2010.


You can find webcam pictures of the constuctionsite
here
.