Minden compact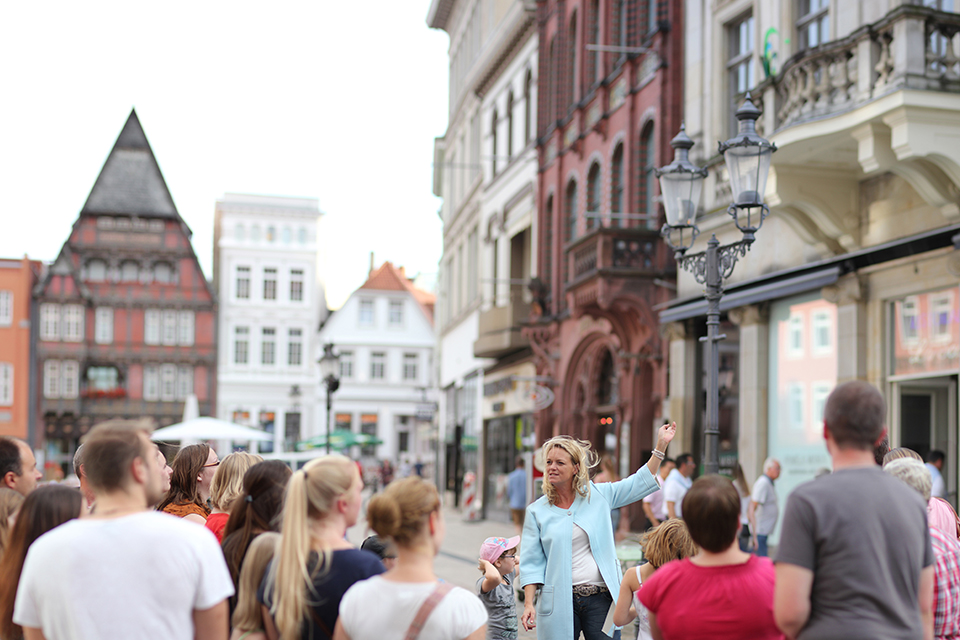 Historic guided tour
You start your day with a foray through Minden's diverse history and our tour guide will introduce you to the following significant sights: The 1200 year old cathedral of Minden ("Mindener Dom"), the historic town hall, constructions of the Weser renaissance, the Prussian military buildings, solid town houses and half-timbered houses as well as churches and memorials.
Duration: approx. 90 minutes

Ship mill
You can wallow in nostalgia during a visit in one of Minden's rarest attractions. The guests are invited to watch the grinding of grain into flour in the unique and fully-functioning reconstruction of a ship mill from the 18th century. The goodbye will be sweetened by a herb-flavoured liqueur.
Duration: approx. 30 minutes

Kanal-Weser round trip
The trip continues by ship – moving on to one of the most spectacular technical sights and one of the most impressing process, because the round trip leads you under and over the Waterway Crossing and into the canal ports. The highlight of this tour will be the impressing double locking with an altitude difference of about 13 meters between Weser and Midland Canal ("Mittellandkanal"). You are going on the river Weser as far as the historical Old Fischermen's Village of Minden and back to the lock. The tour starts and ends at the Waterway Crossing/lock (Sympherstraße).
Duration: approx. 1 hours and 45 minutes (with locking)

Included in the offer:
• Historic guided tour
• Visit of the ship mill
• 1 herb-flavoured liqueur
• Kanal-Weser round trip
16,00 € per person (applies for groups starting from 20 people, who are travelling with own bus)

Bookable from April to October with previous reservation!

We are looking forward to your visit!

Please note that the schedules for the boat trips are fixed and vary depending on season.
All other items on the agenda (e.g. city tour or visit of the ship mill etc. ) can be adjusted to your desires - provided that capacities are available

For further information about our day trips and group trips, detailed descriptions about the modules and possible booking dates and prices please contact the tourist information (Minden Marketing GmbH) under +49 (0) 571/829 06 59 or via e-mail info@mindenmarketing.de or booking form.


Yes, I would like to book this offer now!