Disc Golf in Minden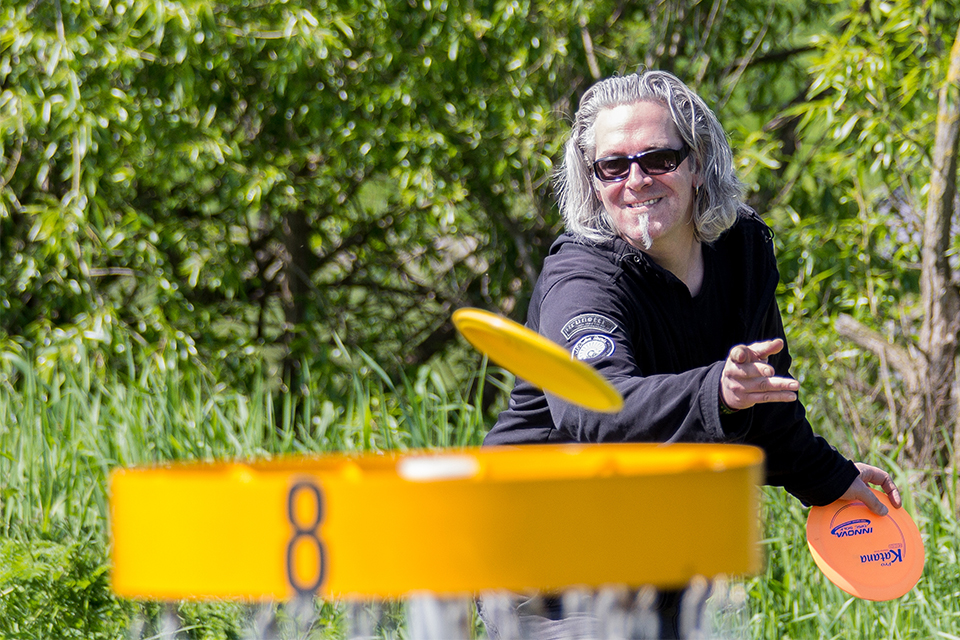 The first and only disc golf course in the Ostwestfalen-Lippe region opened at the "Kanzlers Weide" site in Minden in 2013. It was built by the local sports club MTV 1860 Minden e. V. in cooperation with the City of Minden. The course can be played free of charge by everyone and has been steadily gaining popularity since its opening.
Disc Golf is a fast growing sport for every age, from elementary school kids to senior citizens. Relaxed exercise in the great outdoors, fun from the first moment and the social interaction make disc golf a great experience for families and groups. With very low cost disc golf is superior to most other sports. There are opportunities to rent disc golf discs for a small fee, either on site (during summer) or in a nearby local store (all year). The course can also be explored online in a
3-dimensional video animation
.
The object of the game is to traverse the course from beginning to end in the fewest number of throws of the disc. The "Kanzlers Weide" disc golf course has a total of 18 holes. The play begins on each hole with each player throwing from within a designated area (the "tee pad"). The best player of the previous hole starts throwing. Every player continues to throw where their disc comes to rest. Whose disc lies the furthest away from the basket always throws next. After everyone holes out, i.e. places the disc in the basket, the group moves on to the next tee pad. The winner is the player with the fewest throws after all 18 holes. Of course, a short round of 9 holes or playing in teams are reasonable and interesting alternatives.
For further information about "Kanzlers Weide DISC GOLF" go to
www.mtv-minden.de/discgolf
. You can also find the times at which the MTV 1860 Minden offers a training. Visiting the training in order to grasp a first glimpse of disc golf is for free. The MTV 1860 Minden also regularly organizes public tournaments that are suitable for beginners. Of course the exchange with experienced players is always possible, and for those interested in disc golf as a competitive sport the MTV 1860 Minden is also the right place.