Access

Minden Marketing GmbH
Domstr. 2
32423 Minden
Parking in Minden

You want to visitng Minden for shopping, sightseeing or are on your way through? On the following page you can find information about closest parking options in Minden.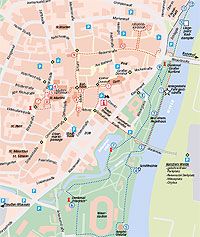 In the whole inner city you can find information about the park situation on the installed signs which indicate how many parking sports are available. Numerous car parks are attached to this system.
You can park you car for free on "Kanzlers Weide". A pedestrian overpass connects this parking lot with the inner city, which you can reach in about five to ten minutes by foot. On the bridge itself you can enjoy a magnificent view over the river Weser, the glacis, the Minden's churches, who are towering above the tres and the Porta Westfalica.
Kanzlers Weide also is a great spot for a stopover with your motorhome.

You can download a complete overview of all parking options here as PDF.
Below you can also find an overview of all car parks in the inner city:
Administration +49 (0) 571 20626

Parkhaus Marienwall
140 spots

Opening hours:
Mon - Sat 07:00am - 10:00pm
Sun closed

Parkhaus Hellingstraße
130 spots

Mon - Thur 07:00am - 10:00pm
Fri, Sat 07:00am - 12:00am
Sun closed

Tiefgarage Rathaus
102 sports

Mon - Thur 07:00am - 12:00am
Fri, Sat 07:00am - 01:00am
Sun closed (exept for big events)

Parkhaus Hagemeyer 1 + 2
391 sports
Administration +49 (0) 571 88890
Mon - Sat 07:00am - 07:30pm
Sun closed

Parkhaus Obermarktpassage
420 sports
Administration +49 (0)571 23093
Mon - Fri 08:00am - 09:00pm
Sat 08:00am - 07:00pm
Sun 11:00am - 07:00pm