Reenactors Fair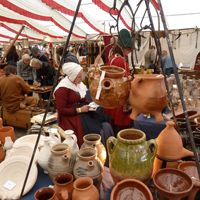 01. - 03.10.2016
International trader and craftsmen are presenting their goods of different epochs. From linen, wool, cotton and silk textiles to finished costumes for both children and adults, to jewelry, sewing patterns and leather goods, the selection represents the epochs from antiquity to 1918. A great selection of different goods every reenactor needs. A real eye-catcher is the impressive collection of weapons.

Other special highlights are the selection of historical food and the cabaret programme on Saturday. Because of the German Holiday on October 3rd the Reenactors Fair 2016 opens on Monday as well.

For further information visit the Reenactors Fair website...