Summer open air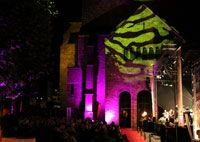 The summer open air (Kultur-Sommerbühne) in Minden is one of the most popular annual events in Minden. It is an inherent part of the cultural program and takes place in front of the cathedral of Minden ("Mindener Dom").
Among the highlights of more then ten years we can look back on German stars like Tom Gaebel, Till Broenner and Max Raabe with his "Palast-Orchester". Above all "Die Prinzen", Jan Josef Liefers und Culcha Candela enriched our diversive program.


The cathedral of Minden with a history of more than 1200 years is the best location for such a summer open air. The "Kleiner Domhof" in front of the cathedral is indeed rather small - with just 1000 possible seats - compared to other venues, but the unique atmosphere speaks in its favour. Once the "Mindener Dom" is completely illuminated the guests as well as the performers will get an exeptional impression of the backdrop and the concert itself.
We are looking forward to welcome the following artists for the Summer open air 2016 in Minden:
The United Kingdom Ukulele Orchestra with their program "I Got Uke Babe" on Wednesday, August 24th
Glasperlenspiel with their Tour "Tag X Tour 2015/16" on Thursday August 25th
Klassik Open Air with the Nordwestdeutsche Philharmonie and the program "Was ihr wollt" on Friday, August 26th
Nils Landgren and his Funk Unit with the program "Teamwork" on Saturday, August 27th
Das Dschungelbuch - Musical on Sunday, August 28th

For further information about the Summer open air, tickets and prices please do not hesitat to contact us.

You can download the flyer here...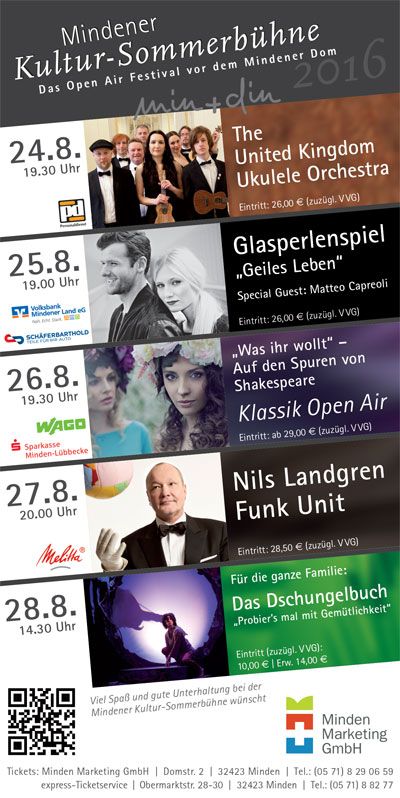 ---
Review: Summer open air 2015 (pictures and impressions)
Tom Gaebel (with his Frank Sinatra program) on 19.08.
Ingo Appelt (with his program "Besser... ist besser!") on 20.08.
Klassik Open Air (with the Nordwestdeutsche Philharmonie and the program "Diva") on 21.08.
Jan Garbarek Group feat. Trilok Gurtu on 22.08.
Käpt'n Blaubär Musical on 23.08.