Minden WLAN at no charge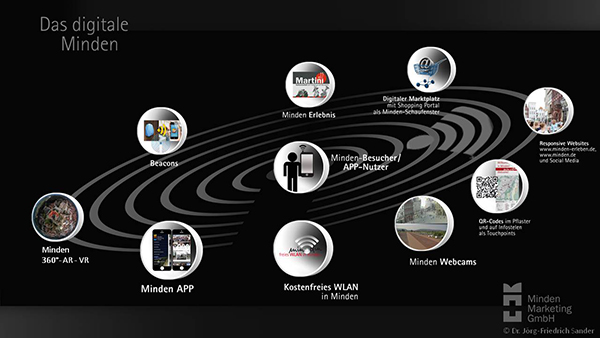 Since the beginning of the WLAN project on the occasion of the 2014 Christmas market, Minden Marketing GmbH has outfitted the entire pedestrian precinct in the town centre with free WLAN. All users can simply select "Minden WLAN" and start surfing directly, without prior registration. This free Internet access was also enabled in the Sommerbad (public open-air swimming facility), at the Simeonsplatz and at Kanzlers Weide fairgrounds and motor home parking area.

In order to use all these services in the virtual public space - whether with laptop, tablet or smartphone – the free "Minden WLAN" is being further extended. Additional retail shops, restaurants and service companies, but also homeowners are invited to support the project. Free WLAN can be set up on-site starting at just EUR 20. The price also includes assumption of the operating risk regarding the much discussed disturbance liability.

With the practical realisation of the future project "Digital Minden" the MMG and its partners and sponsors would like to promote the attractiveness of the town centre as well as support the Minden retail trade and gastronomy. As a standing order, the implementation of the concept is also indispensable in terms of the image aspect of city and destination marketing.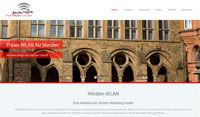 Would you like to know all about Minden's WLAN? And would you especially like to know where you can access Minden's WLAN?
Then, have a look at the
Minden WLAN website
here...you will find, among other things, all the promoters, supporters and sponsors...
Click here for the overview map of Minden's WLAN...