By Steam train or ship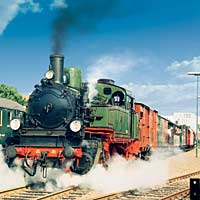 Minden's attractions are as numerous as they are marvelous! Why not travel with the museum railway and venture into the surrounding countryside? You can either visit the Südhemmern windmill and continue into the Hiller moorland or else take a tour of the mine at Kleinenbremen?
Perhaps you want to try the mill route and go by steam train and/or ship? You can even do it all! The museum railway's daily route makes combining trips easy..